WHEN WE CELEBRATE a political "first," we're heralding the beginning—not the end—of a struggle. And yet, understanding the lives of trailblazers can instruct us in how to pursue justice in spite of institutional prejudice. Tomiko Brown-Nagin's recent biography of Constance Baker Motley, Civil Rights Queen, provides one such example, beginning with Motley's birth in 1921 to West Indian immigrants in New Haven, Connecticut. In the shadow of Yale University, where Motley's father worked as a cook, the Black community was segregated but protected by what Brown-Nagin calls "racial détente." Motley's parents raised their twelve children to see themselves as any white person's equal and, more problematically, as superior to the city's African American population by virtue of their British colonial origins and aspiration to lift themselves up "through education and hard labor." In a racially stratified society, this sense of caste superiority had "a psychologically important purpose," Brown-Nagin argues, instilling in Motley a confidence about her own abilities and future.
But Motley's path to that bright future was not immediately clear to her. After graduating high school, she went to work. During that time, she got involved in activist groups (some with Communist affiliations that would briefly haunt her when the Senate Judiciary Committee vetted her decades later). A white philanthropist saw Motley speak at a political meeting and, discerning her promise, packed her off to Fiske University in Tennessee. It was at Fiske, one of the original HBCUs, where Motley first experienced racial segregation. After finishing her education at New York University, Motley was then—like Bella Abzug, Florynce Kennedy, and other women who later became feminist icons—admitted to Columbia Law School because most law school-aged men were still in the military.
Even with her prestigious degree, Motley could not get hired by a law firm because of both racism and sexism. In 1945, after asking her "to climb a ladder next to a bookshelf" so that he could "inspect her legs," Thurgood Marshall offered her a job at the NAACP Legal Defense Fund. There, she fought historic battles against Jim Crow, defended activists, and acted as lead counsel in multiple landmark antidiscrimination cases, including the original complaint in Brown v. Board of Education.
What stands out in Brown-Nagin's account is Motley's breathtaking toughness. Many of these cases were litigated in a hostile Southern environment where judges and local attorneys used racial slurs and refused to call her by name. Her very appearance in court drew gawkers. But to her admirers, Motley was known as the "Civil Rights Queen," a nickname coined by a journalist in 1950. As the Civil Rights Act of 1964 shifted antidiscrimination work to the US Department of Justice, Motley's "nationally recognized name" and "sterling reputation" caught the eye of a New York City political machine where Black politicos were steadily gaining power. In November 1964, Motley became the first Black woman to win a term in the New York State Senate. Even after two Civil Rights Acts (the second in 1965), Motley was attacked as "radical" by Southern Senate Democrats, and her nomination to the judiciary would be held up for months. But in 1966, she was nominated by President Lyndon B. Johnson as the first Black woman federal judge; she served on the United States District Court for the Southern District of New York until 2005 and became chief justice in 1986. There, instead of fighting for justice, she dispensed it.
BEING BOTH A woman of color and a first-generation immigrant in America can perhaps form a budding politician's character. Another new political biography—Anastasia C. Curwood's Shirley Chisholm—revisits the life of the gritty "unbought and unbossed" politician who became the first Black congresswoman in 1968 and, in 1972, the first African American woman to attempt to become the nominee for president in a major party. Like Motley, Chisholm was a "daughter of the diaspora" and exhibited a sense of purpose, independence, and self-confidence from childhood. Born in Brooklyn in 1924, Chisholm, along with her sisters, was sent back to their parents' home country of Barbados between 1928 and 1934, where they lived with their grandmother and attended rigorous English-style schools. Upon her return to Brooklyn, Chisholm now understood American racism in contrast to her experience in a community where authority was almost entirely Black. From an early age, she internalized a message that "brains have no color," prejudice was no excuse for failure, and, as she matured, that gender made victory harder but not impossible.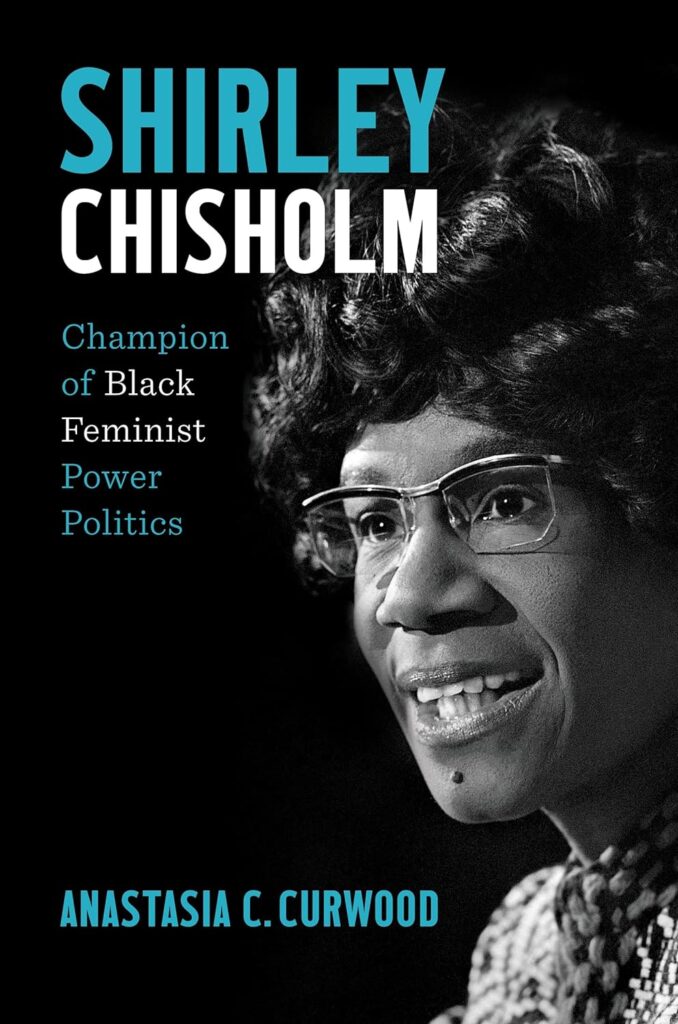 After graduating from Brooklyn College in 1946, Chisholm trained as a teacher—a putatively practical choice, yet she struggled to get hired. Recommended for positions that evaporated when the applicant turned out to be Black, Chisholm recalled that, "I began to get certain feelings churning up inside me." Eventually, she was hired at a childcare center in a city housing project where she witnessed firsthand the inadequate government response to urban poverty. This work propelled her into community organizing and, by 1953, Brooklyn's burgeoning Black political scene. While working her way up the machine, she won a seat in New York State Assembly in 1964 by appealing directly to women voters. By the time Chisholm was elected to Congress in 1968 and then ran for president in 1972, her legislative work was closely identified with feminism, the Northern civil rights movement, and poor people's campaigns like the National Welfare Rights Movement.
Forcing the Democratic party to accommodate grassroots demands for justice took a specific toll on women of color.
IN RETROSPECT, 1964 was a big year for women in politics. The same 1964 election cycle that sent Chisholm to the New York State Assembly and Motley to the New York State Senate also brought Patsy Mink the distinction of being the first woman of color elected to Congress.
The subject of Fierce and Fearless (2022)—a biography coauthored by her political scientist daughter, Gwendolyn Mink, and Judy Tzu-Chun Wu—Patsy Mink (née Takemoto) was born on the island of Maui in 1927. Hawaii, a multiracial colonial society, was not granted statehood until 1959, and Mink experienced the United States both as an outsider and as an American intimately familiar with racism, though she was a third-generation Japanese American. During World War II, the Takemotos were spared the forced removal to which mainland Japanese Americans were subjected, but they still faced "racial suspicions, harassment, and discrimination." After Patsy's father, a civil engineer, was interrogated by officials about a missile strike from a Japanese submarine, the frightened family packed all vestiges of their heritage away and made sure never to show a light at night that could be interpreted as a signal to the enemy. Yet even as Mink heard whispers of "Dirty Jap" at school, she and her brother volunteered in the war effort.
After leaving Hawaii for the mainland, Mink continued to experience prejudice in different ways. In 1947, she enrolled in the University of Nebraska, where she was shocked to be excluded, on the basis of race, from dormitories—all students of color were required to live in the "International House," regardless of their nationality—and social organizations. After two years, Mink returned to Hawaii to finish her degree. She then applied and was rejected from twelve medical schools. (These blanket rejections were, of course, also the product of discrimination that would not be alleviated until Mink herself steered Title IX through Congress in 1972.) Although a legal career was her second choice, she became one of two women and two Asian Americans to graduate from the University of Chicago Law School in 1951, where she was also accepted as an "international" student.
When she returned to Hawaii after law school with a husband and baby, Mink became the first Japanese American woman to pass the state bar exam. Unable to find work in a law firm, Mink hung out her own shingle and began a political career within the movement to end nuclear testing in the Pacific. After winning local and state offices, Mink was elected to Congress, where, like Motley and Chisholm, she became the legislative face of the New Left movements sweeping the United States to end the Vietnam War and promote the equality of women, particularly through childcare, welfare, and employment equity legislation.
These causes put Mink—and then Chisholm, who joined her in Congress four years later—at the forefront of the uneasy progressive politics of a Democratic party that wanted women's votes without the feminism and voters of color without the radicalism. Mink practiced what the authors of Fierce and Fearless call "bridge politics," linking grassroots demands to the legislative process in a way that earned her the hostility of lawmakers and sometimes her own voters. But the attacks on Mink, as on Motley and Chisholm, were unceasing. Throughout the 1960s, she was derided as a "women's libber," a "Communist," and, for her anti-Vietnam stance, a traitor. These critiques came in spite of her attempts to "strategically" separate her feminism and her antiwar politics, choosing "not to frame antimilitaristic critiques and pro-environmental politics in explicitly gendered ways."
IT GOES WITHOUT saying that all of these women were radical in their vision for a United States that could make good on its constitutional commitments for equality. But they became firsts because they chose the system over the revolution. As political actors, they were all institutionalist, yet they found ways to bring radical goals into the liberal project, despite the fact that forcing the Democratic party to accommodate grassroots demands for justice took a specific toll on women of color. As biographers, Wu, Mink, and Brown-Nagin largely draw a curtain over the pain and exhaustion that fighting racism and sexism must have caused their subjects. Curwood alone, in a book that is not otherwise revealing of Chisholm's inner life, records Chisholm's compromised health and the moments in which she was reduced to tears, sometimes in public. And being a first did not immediately open the door to others: No Black woman ran for president in a major party for almost another fifty years. No other Asian American woman was elected to Congress until 1990, the year that Mink died in office. And after Motley, no other Black woman—or any woman—was elevated to a United States District Court for another twelve years.
What kind of women become firsts? Tough ones, yes, and those who can understand the contradictions of American democracy as outsiders and insiders. But together, these three biographies make one larger point: "firsts" matter exactly because they begin the struggle. They carry the fight out of the streets into the halls of power by building coalitions. Motley, Chisholm, and Mink succeeded not by becoming more like the establishment but by distinguishing themselves within it.